Carpet trends: 5 fresh ideas for 2023
Carpet is back! Wooden floors and cheap and easy laminates knocked carpet off the top spot in recent years, but the post-Covid desire for comfort, cosiness and a softer look to our interiors has put it firmly back on the flooring wishlist. Good Homes picks out five key carpet trends for 2023…
1. Colour drench it
Embrace this year's trend for colour drenching with a plush, bright carpet that reflects the rest of the room, from the walls to the furnishings, for a statement look. Fans of teal could try the below look, which goes all in with Austen Teal carpet from the Velvet Collection at Brintons paired with an accent chair and walls in similar shades.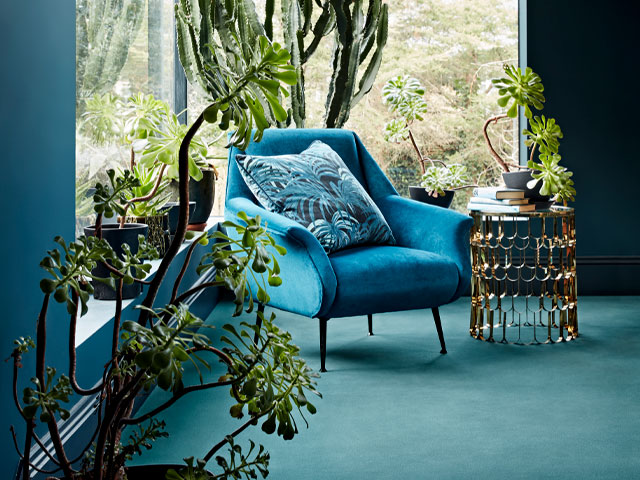 2. Bright carpet
Use your carpet as a way to add colour to a room – perfect for if you're keeping the walls more neutral but still want to inject some personality. This Stainfree Caress carpet in Old Gold from Abingdon Flooring adds a sunny warmth to the room and is picked out in the soft furnishings and accessories to create a cohesive scheme.
3. Animal print carpet
Carpets don't have to be one solid colour – harness a pattern like this animal-print design to be as playful as you like. After all, animal print is practically a neutral, right? It's also handy for hiding stains if you're a little accident-prone. The Madagascar Wilton carpet in Beige Leopard, below, is from Carpetright.
4. Natural carpet
Made from the long leaves of the agave plant, sisal is a good choice for those with allergies and asthma. It also has an earthy, rustic texture that's perfect for neutral schemes or those who love biophilic design. While it can feel coarser underfoot than traditional carpet, it's beautifully timeless and usually less expensive than nylon or wool. The Agra Platinum sisal flooring, below, is from Sisal & Seagrass.
5. Dark, dramatic carpet
Love a dark decorating scheme? Dare to be different by matching the carpet. Sisal has an earthy, rustic texture that never goes out of style, but you can update it for 2023 by adopting a Dark Japandi look, like the Big Bouclé Sisal in Noir shown below from Kersaint Cobb. It's also a very durable material, making it ideal for a dining room where chairs are often being scraped back and forth.
6. Striped carpet
Stripes make a space feel longer or wider, so it's no wonder that searches for striped carpet in the UK have increased by 100% in 2022, according to data from Google Trends. 'We're seeing the return of striped carpets as popular choice for the home,' says Jon Flannigan, Product Manager at Kersaint Cobb. 'This particular design is great for widening or lengthening the size of a room.'
7. Pink carpet
Pink carpets might feel a bit OTT, but with Barbiecore taking social media by storm, it might be time to think again. Tapi Carpets crunched the numbers and discovered that searches for Barbiecore increased by 1,500% on Pinterest during 2022. Whether you colour drench it or keep the rest of the room neutral is, of course, up to you.
---
The next best thing: a rug
Renting? Attached to that original wood flooring? Short-cut to that cosy carpet feeling with a rug or two. Go for one oversized rug to cover the majority of the floor space, leaving a border of wooden floor around the edges. Or try layering rugs in different patterns for a maximalist look, or stick to tonal shades for something more Cottagecore.
---
MORE ON CARPETS & TRENDS
The post Carpet trends: 5 fresh ideas for 2023 appeared first on Goodhomes Magazine.